Sina Bahram is the President and founder of Prime Access Consulting, Inc. (PAC) and also serves as an invited expert on working groups and standards bodies, including the World Wide Web Consortium (W3C) Accessible Rich Internet Applications (ARIA) working group. He also mentors colleagues across multiple fields, and is a board member and project advisor on several initiatives.
In 2012, Sina was recognized as a White House Champion of Change by President Barack Obama for his doctoral research work enabling users with disabilities to succeed in Science, Technology, Engineering, and Math (STEM) fields. Sina believes that accessibility is sustainable when it is adopted as a culture, not just a tactic, and he is dedicated to shaping the next generation of digital accessibility standards and best practices.
Dana Bolles earned a BS in Mechanical Engineering, then began her work at NASA where she served as a payload safety engineer and was part of a program focused on minimizing mission risks to human exploration of space. Today, she works at NASA Headquarters as a science communications program manager.
In this role, she manages the day-to-day operations of a website focused on getting science out to the widest possible audience.
Dana has learned that in almost any type of job, increasing numbers of people are realizing the importance of inclusion, diversity, equity, and accessibility.
She lives her life outside of the status quo on almost every level, as a queer, disabled, woman of color, half asian and half latina. Although she has lots of intersectionalities, people respond most to her disability, making assumptions about what she can't do. She believes that being an AstroAccess Ambassador is a step forward for all in her community, highlighting the abilities of ALL for mission success!
Dana currently serves as an American Association for the Advancement of Science (AAAS) IF/THEN Ambassador. This program brings together 125 women from a variety of STEM careers to serve as high-profile role models for middle school girls. By highlighting women in STEM who are contributing in all these fields, AAAS IF/THEN Ambassadors like Dana show girls the different career pathways they can pursue and how STEM impacts their lives every day.
Mary Cooper is a student at Stanford University pursuing a degree in Aerospace Engineering & Computer Science. She is a champion athlete and a below-the-knee amputee. Her interest in aerospace stems from her father's career as a Helicopter Rescue Pilot in the United States Coast guard.
At Stanford, Mary is a member of Pi Beta Phi, an official Stanford tour guide, and a member of the D1 reigning National Champion Rowing team. She is also a 2020 Brooke Owens Fellow, 2020 Lime Connect Fellow, and most recently a 2021 Matthew Isakowtiz Fellow.
She is currently a proud owner of several high-performance, light-weight carbon fiber legs and has developed quite a unique life perspective, a curiosity for engineering, and phenomenal problem-solving skills from her experience with disability.
Eric Ingram is the Founder and CEO of SCOUT Inc., a company that is de-risking space operations with sensor suites that enable spacecraft to see and understand the area around them. He holds a Bachelor of Science in Physics from Old Dominion University, a sport pilot certificate, and is working towards SCUBA certification and a Master of Science in Electrical Engineering from the University of Houston.
He was previously an Aerospace Engineer for the Licensing and Evaluation Division of the FAA's Office of Commercial Space Transportation, where he gained expertise in the regulatory environment. Prior to this, Eric was an engineer for Deep Space Industries, where he designed cubesat subsystems for testbed missions.
Eric is currently serving on the Board of Directors for the Space Frontier Foundation, plays wheelchair rugby, and was the first person in a wheelchair to earn a Gracie Jiu Jitsu blue belt.

Centra (Ce-Ce) Mazyck, a born athlete, fell in love with the game of basketball and became a high school basketball star. In 1995, she enlisted in the U.S. Army to pursue her dreams in education and she quickly fell in love with serving her country.
On November 26th, 2003, as a First Sergeant in the 82nd Airborne Division at Fort Bragg, Ce-Ce suffered a life-changing injury that damaged her spinal cord. Doctors told her that she would never walk again, but this didn't slow her down.
Being a single mother to her son, Tristen, challenged her to push the limits. After vigorous rehabilitation, she went back to school and obtained a Bachelor of Arts in Sociology at the University of South Carolina.
She returned to sports as a paralympic athlete, placing first in javelin at the paralympic trials in 2012. She went on to win bronze at the IPC Athletics World Championships in 2013, and continues to be dedicated to inspiring audiences both young and old all around the world.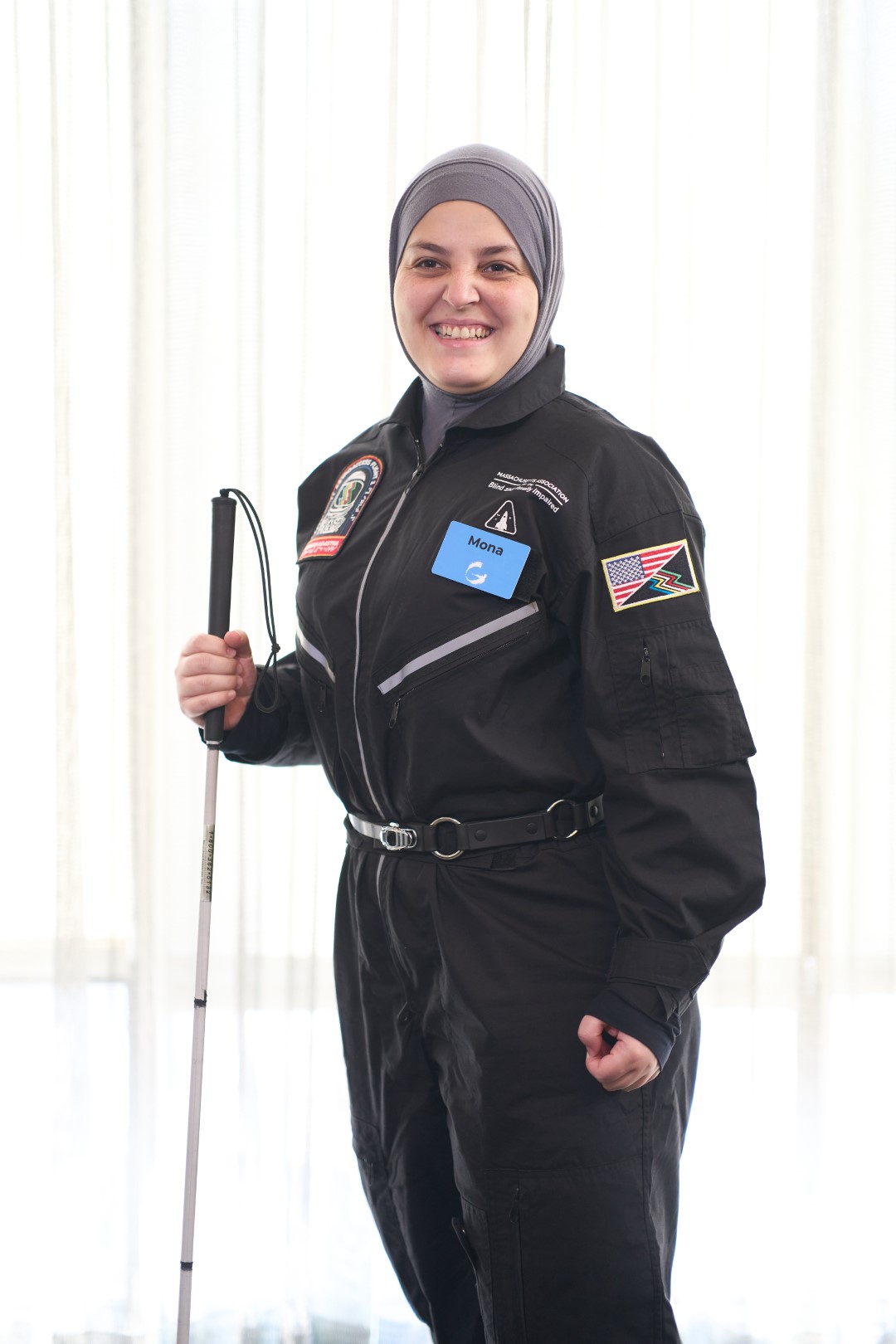 Mona Minkara earned her doctorate in chemistry at the University of Florida and bachelor's in chemistry and middle eastern studies at Wellesley College. Now, she is Assistant Professor of Bioengineering at Northeastern University and leads the Minkara COMBINE (Computational Modeling for BioINterface Engineering) Lab researching pulmonary surfactant.
Minkara serves on the Chemists with Disabilities Committee for the American Chemical Society, is a member of the Disabilities Outreach and Inclusion Community for the American Institute of Chemical Engineers and works with the American Association for the Advancement of Science (AAAS). She also designed a completely accessible science curriculum for blind and sighted youth with Empowerment through Integration (ETI) and maintains the online Blind Scientist Tools serving as an encyclopedic reference for the tools she uses in her career.
Minkara's current work with the Royal Academy of Science International Trust (RASIT) and the American Printing House for the Blind (APH) advocates for making STEM accessible to the blind community. She also produces the original YouTube documentary series, "Planes, Trains, and Canes" focusing on public transportation and accessibility.
Viktoria Modesta is a bionic pop artist and creative director. Her work bridges music, body art, sculptural tech-fashion and an otherworldly narrative. Dedicated to changing the world's perspective on post-disability, Viktoria brings a multidisciplinary approach to her work, connecting the art community and innovation to pop culture.
Wearing a diamond-encrusted prosthetic, she performed as the Snow Queen during the 2012 Summer Paralympics closing ceremony and has racked up millions of views online for her viral music video "Prototype" with Channel4.
She was also a member of the 2015 Cohort of Director's Fellows at MIT Media Lab, and she has headlined a run of sold-out shows at the Crazy Horse cabaret in Paris, represented global brands Rolls Royce and Snap, and toured the world as a performing artist and keynote speaker.
Azubuike (Zuby) Onwuta is a Harvard-MIT trained innovator, US Presidential Service Award recipient, US Army Veteran, patented inventor of "Brain control for Blind Assistive Tech", founder of "Think and Zoom", and founder of the publication "Future of Disability".
Hardships from losing his medical studies and US Army and engineering careers to legal blindness disability inspired him to invent and patent a solution that reads and responds to human brain waves to provide hands-free vision augmentation and reading assistance. He also created "Kenti: free bird", a brain-controlled mobile game, and won the Apple WWDC (World Wide developer Conference) award. He also founded "Future of Disability", a publication celebrating the achievements of Disabled Tech Innovators from around the world.
Onwuta is dedicated to "creating a world where visual impairment no longer steals dreams or kills careers". As a Disability Innovation Advocate, he has spoken across 6 countries, four times at TEDx, three times at US Congress, and two times at the United Nations, as well as three times at American Academy of Ophthalmologists, Johns Hopkins Medicine, USC Keck Medicine, SXSW and many other stages. And for his work as a global mentor that has impacted over 1,000 STEM students, he was awarded the US Presidential Service Award by President Barack Obama.
Onwuta aims to inspire and empower all people to "Dream BIG and Believe in themselves, so they can pursue their goals and Achieve their dreams!"
Sawyer Rosenstein is an avid space enthusiast and news producer at WPBF 25 in West Palm Beach, Florida. He previously hosted a weekly on-air segment called "Science with Sawyer", where he helped simplify some of the largest scientific news of the week, and he is currently host of the popular Talking Space podcast.
Through the podcast, he became the youngest member of the NASA press corps at 17, covering the final space shuttle launch as media in 2011. He has covered dozens of launches since then, including every flight during the Commercial Crew Program and most recently Inspiration 4. He was formerly a flight director with the Challenger Centers for Space Science Education for 12 years, directing simulated space missions to the moon, Mars, and to rendezvous with a comet along with teaching other STEM concepts such as Lego Robotics and 3D printing. Sawyer has also interned with the communications office at NASA's Goddard Space Flight Center.
Eric Shear is currently a graduate student in chemical engineering at the University of Florida and his studies have taken him all over North America. Before Florida, Shear obtained degrees in physics and planetary science from York University in Toronto, Canada. As a student of Tacoma Community College in Washington State, Eric led an experiment on the Weightless Wonder aircraft in 2011 as part of NASA's Reduced Gravity Education Flight Program.
In 2018, Eric served as part of Crew 194 at the Mars Desert Research Station in the Utah desert. He also interned at Tethers Unlimited on a water electrolysis thruster that is now being tested in orbit. His previous work at York University led to two peer-reviewed academic publications in space mission design, with him as the first author. He is currently serving as a patent research intern at UFInnovate Tech Licensing.
Apurva Varia was inspired to become an aerospace engineer after seeing the space shuttle launch on TV while he was in the ninth grade. After that launch, he wrote a letter to NASA's Johnson Space Center in Houston, Texas asking if the space program would ever accept deaf astronauts. They responded saying that they would take that into consideration for the future.
He proceeded to receive a Bachelor of Science in Mechanical Engineering at Rochester Institute of Technology and a Masters of Science in Aerospace Engineering at Syracuse University.
He has served as Mission Director for Parker Solar Probe, Mission Director for the Interstellar Boundary Explorer (IBEX), and Deputy Mission Director for the Lunar Reconnaissance Mission (LRO).
Dr. Sheri Wells-Jensen is an Associate Professor of Linguistics at Bowling Green State University, where she researches social aspects of human colonization, disability, the relationship between language, embodiment and thought, language evolution, and ways that alternative sensory inputs can influence the evolution of scientific thought.
Sheri previously served in the Peace Corps in Ecuador educating on pesticide safety. While in Ecuador, she learned how to speak Spanish, the banjo, and the card game bridge. In addition to being a professor, Sheri serves on the boards of the SciAccess, SSoCIA (Social and Conceptual issues in Astrobiology), and METI (Messaging Extraterrestrial Intelligence) International and is currently writing a book on disability and space.